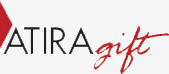 Atira gift cards are a preloaded card that can be used at retail establishments that have agreed to accept Visa Debit Cards. Purchases will be deducted from the card until the value reaches zero.
Cards can be loaded from $5.00 to $750.00. Each card costs only $2.50 and can be purchased at any 1ST Gateway Credit Union location. Gift cards are non-reloadable.
Your Atira gift card will be registered at the time of purchase. This will give you online access to your transactions and balance 24/7. For more information visit www.atiracredit.com or contact 1st Gateway Credit Union.